Stranraer Oyster Festival has announced that online sales of tickets have more than doubled ahead of the three day festival, which starts tomorrow (Friday 15th September).  
Romano Petrucci, Chair of Stranraer Development Trust, the community organisation that runs the festival, said Stranraer is gearing up for its busiest weekend of the year as visitors from across the UK travel to the site in south west Scotland. He said: 
"When we first launched Stranraer Oyster Festival back in 2017 we never could have imagined that it would become such a significant part of Stranraer's identity and help to drive its economic transformation. 
"We are thrilled at the growing interest in this event - both from people who are passionate about oysters, and from folk who just enjoy the really fun, relaxed atmosphere of the weekend. We are hugely grateful to our funders and sponsors whose support has enabled our festival to grow in ambition and quality year on year."
The community run festival introduced online ticketing last year to help manage site planning as the festival returned with a bang after a two year covid break. 18,000 visitors attended in 2022, enjoying more than 7,500 oysters. Members of the public were invited to book ahead online again this year, and the strong demand for tickets has informed festival site planning to accommodate the thousands of visitors expected to attend. 
More than 10,000 oysters are being prepared for the festival, with organisers now expecting attendance to top 20,000. 
Taking place on Friday 15th to Sunday 17th September, the festival programme includes demonstrations and events by celebrity chefs Michael Caines, Tony Singh, Julie Lin and Felicity Cloake. An evening pyrotechnic aerobatic display is set to wow the crowds with illuminated night displays over Loch Ryan on the evenings of Friday 15th and Saturday 16th September.
While Loch Ryan's wild, native oyster bed is the focus of the festival, the diverse programme also includes live music, extreme pond dipping, an artisan market, street food, children's entertainment and water sports tasters. The Scottish Oyster Shucking Championships takes place on Saturday 16th September, and will see chefs, oyster growers, producers, fishermen and industry professionals pitting themselves against each other in a bid to claim the title of Scottish Oyster Shucking Champion. 
This year Stranraer Oyster Festival has also committed to lowering its environmental impact. Festival organisers have pledged to return the shell of every oyster consumed at the festival back to Loch Ryan to help efforts to grow the wild, native oyster bed, and visitors and traders are being encouraged to enjoy the festival sustainably by minimising waste.
The festival is supported through Dumfries and Galloway Council's Major Events Strategic Fund and Coastal Benefit Fund, and EventScotland's National Events Funding Programme. The work of Stranraer Development Trust is also supported by Kilgallioch Community Fund and South of Scotland Enterprise are supporting the long-term sustainability of the festival.
General admission tickets cost £6 per day or £12 for the full three-day event for over 12s, with concessions available. Additional charges apply for selected chef demonstrations. 
Tickets for Stranraer Oyster Festival 2023 can be purchased online from www.stranraeroysterfestival.com or in-person at the festival site. 
Image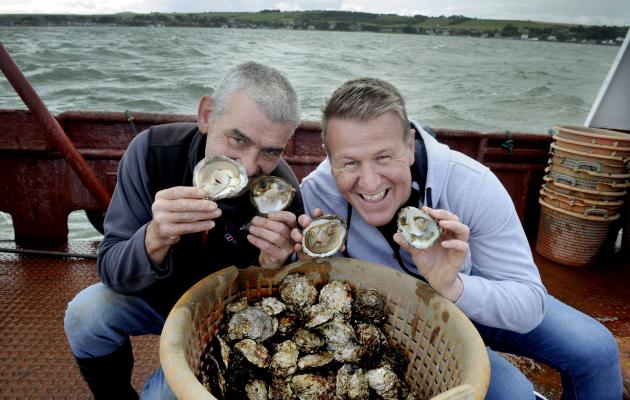 Oyster fisherman Rab Lamont with Allan Jenkins of Stranraer Oyster Festival
Download image