Stranraer Oyster Festival has 'come of age' according to organisers after drawing record crowds to the three day event in south west Scotland, that celebrates the wild, native oysters of Loch Ryan. 
Romano Petrucci, Chair of Stranraer Development Trust, the community organisation that runs the festival, said: 
"Stranraer Oyster Festival has truly come of age. Each year we aim for bigger and better and we were hugely ambitious about what the 2023 festival could deliver for Stranraer, but the success of this year's event has surpassed my wildest dreams. 
"Footfall is very substantially up on last year. I won't put a firm figure on it till the independent economic impact research has been completed, but suffice to say visitor numbers exceeded our expectations by a considerable margin. We ran out of entry wristbands, we nearly ran out of oysters, we ran out of almost everything. 
"We now need to think very seriously about how we nurture and develop the potential of this festival, because what this weekend has shown us is that the potential is very considerable indeed. 
"Stranraer Oyster Festival is a whole-community effort. This event is community-led regeneration in action and it has become a catalyst for the transformation of our town. Our festival shows what Stranraer can achieve when we work together as one. Each year you can feel the confidence and pride within our community rise higher and higher, it's an absolute joy to experience. 
"I'd like to express my most sincere thanks to everyone who contributed to the success of Stranraer Oyster Festival 2023. We can't wait to do it all again next year!"
The dates for next year's event have been confirmed as Friday 13th to Sunday 15th September. Organisers are encouraging people interested in travelling to attend the festival to book their accommodation early to secure local availability.
Speaking at the festival Chef Michael Caines said:
"It's my first time here at Stranraer for the oyster festival, it's a huge festival and that it's community led is really important. 
"There's wonderful chef demonstrations, local producers and oysters at the centre of it – the location is absolutely stunning because it is all about these native oysters. The festival really is starting to get momentum and put Stranraer on the map, it's such a great community spirit here and I'm loving being part of it."
Commenting on social media after the festival Felicity Cloake, Guardian food columnist and author, said: 
"This festival is exactly the kind of thing we need more of: a great big community party to celebrate south-west Scotland's world-class seafood, and generally come together and have a good time."
Chef Julie Lin commented:
"A weekend full of joy, oysters, giggles, strawberry tarts and all at the most magical festival. Stranraer Oyster Festival you blew us away. What a special event, with a strong sense of community!"
Glasgow based chef Gordon Reekie, co-founder of That's Yer Dinner, won the Scottish Shucking Championship. He will now go on to represent Scotland at the World Championships in Galway later this month. 
More than a tonne of oysters were enjoyed at Stranraer Oyster Festival. The shells have been collected and they will now be cleaned, weathered and then returned to Loch Ryan next summer as 'cultch' – shell material for habitat creation – to help the native oyster bed grow. 
Stranraer Oyster Festival is supported through Dumfries and Galloway Council's Major Events Strategic Fund and Coastal Benefit Fund, and EventScotland's National Events Funding Programme. The work of Stranraer Development Trust is also supported by Kilgallioch Community Fund and South of Scotland Enterprise are supporting the long-term sustainability of the festival.
More information can be found at www.stranraeroysterfestival.com 
Ends 
Image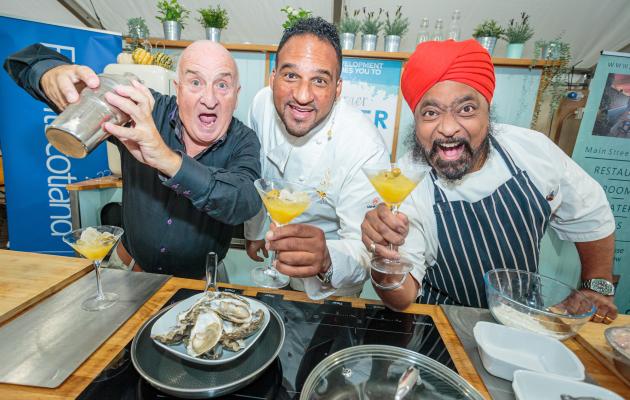 Massimo Lisi, Michael Caines and Tony Singh at Stranraer Oyster Festival 2023
Download image